Millard Rotary is sorry to report the passing of a long time member, Joe Elliott.
Please keep his family in your thoughts and prayers.
Joe's obituary as posted in the Omaha World Herald is as follows.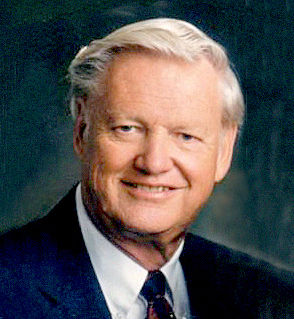 Elliott, Joseph W. Jan 1, 1929 - Jan 16, 2018
Joseph W. Elliott, age 89, passed away peacefully surrounded by family. Born and raised in Fergus Falls, MN, attended Univ of North Dakota on a sports scholarship where he earned his undergraduate and law degrees. Joe was married 63 years to Beverly Marson Elliott. Moving their family to Omaha in 1960, they raised four grateful children. Joe was a huge sports enthusiast and avid golfer as anyone who knew him would agree. He loved his Huskers, followed numerous college and high school sports, and coached kids whenever he could. He held several high school track records for years and was inducted into their Hall of Fame. He loved to talk sports and spend time with family at his cabins in MN and NE. He was active at Christ the King as founder of Sports Club, nocturnal adoration and bridge club. His love for the insurance business led him to successful top positions at Aetna, Cornhusker Casualty, and InsPro. A lifetime influential insurance man, he continued to work in the insurance community into his 80's lobbying for the PIA of NE. He was a long-time Rotarian. Another passion was the Boy Scouts. An Eagle/Silver Beaver recipient, he spent countless hours in all aspects including Scoutmaster, merit badge counselor, and local committee member. Joe made friends instantly through his business, sports, church and daily life with his witty, humorous and inquisitive personality. He led by integrity in all aspects of his life. He leaves many memories and will be missed by all who knew him. Joe was preceded in death by his parents, brother, and wife. He is survived by children: Marti (Mark), Gregg, Jeff (Suzanne), and Jodee; sister, Mary; 11 grandchildren; 14 great-grandchildren; nieces, nephews and relatives; and scores of friends.
VIGIL SERVICE was Friday, Jan. 19th at 7pm at the West Center Chapel.
MASS OF CHRISTIAN BURIAL was Saturday, January 20th, at 10am at Christ the King Catholic Church, 654 S. 86th St. In lieu of flowers and gifts, memorials to Alzheimer's Association.
HEAFEY-HOFFMANN-DWORAK- CUTLER, WEST CENTER CHAPEL